Published Wednesday August 15, 2012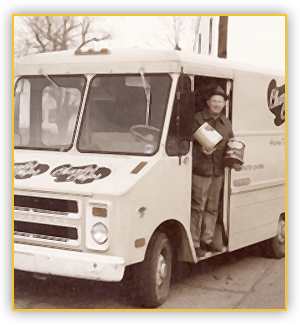 We all remember them, our Moms purchased from them, some of them came weekly, and others came seasonally or yearly. They were the traveling salesman and believe it or not some still do exist in some parts of the country!
We established relationships with these salesmen and they knew everyone in our family's name, nickname, birthdays and other significant family milestones. That's because they called on the same families for years and watched families grow up. Our
Charles Chips
, or as we fondly referred to them as Charlie's Chips man even had a nick name for my little sister.
Sales used to be door to door, person to person, and personal. Imagine a time not too long ago when it was standard and perfectly acceptable for the Fuller Brush Man, Amyway, Charles Chips, Encyclopedias and Vacuums to be pitched directly to people in their homes!
The Charles Chips story
is one of loyal fans, hope, brand legacy and rebirth. Charles Chips launched in 1942 by Effie and Si Musser in Lancaster Pennsylvania. It started in their kitchen as a way for them to make extra money, from their fledgling farm! National growth, the sale to investors and twice in bankruptcy followed.
Great brands never really die in the hearts of their fans. The company was all but forgotten about until the Scardino family purchased the company in early 2011. Being true fans of the brand, they wanted to recapture the true essence of Charles Chips and bring back the famous tins filled with all of the original recipes.
What was the true essence of the Charlie Chips Brand?
Personality Marketing and Selling
Convenience
Quality Recipes and Unique Packaging
Consistency
Referrals
70 years later, Charlie Chips original recipes, convenience, quality products, unique packaging and consistency are back. They may not be delivered in their signature truck, door to door, but they do come via mail from
their website
in the iconic Charlie Chips Tins, which can be repurposed, as they used to be and they are on
Facebook
and
Twitter
!
Here's Charlie Chips promise: "So when you treat yourself to these traditional recipes, don't be surprised if you suddenly feel as if you've stepped back in time. We guarantee your satisfaction. The people at Charles Chips® would never settle for less".
Welcome back Charles Chips, or Charlie Chips to millions of us! We missed you!